"

Earl Thomas rattles the stars!"
— The Times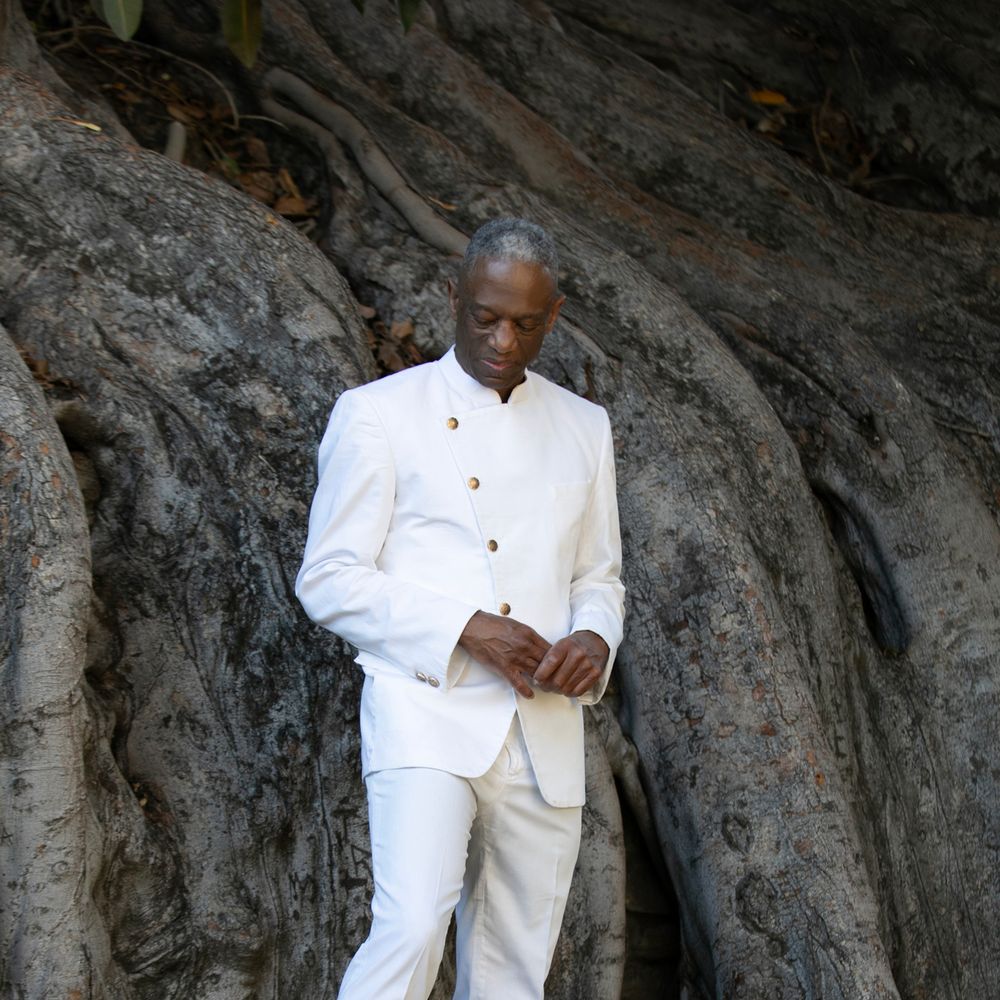 EARL THOMAS
THE GOSPEL AMBASSADOR
Earl Thomas parlayed a unique voice and style into blues stardom at the beginning of the '90s. His debut album "Blue...Not Blues" appealed to audiences of all ages, races, creeds, colors and nationalities and brought a fresh alternative to traditional blues. Thirty years and 21 recordings later, he is recognized as one of the most influential and prolific blues artists of his generation, and his impact has touched audiences across the globe. Now, in what he calling his "third act," he is singing gospel. His latest album "Church Songs" (scheduled for release in the fall of '23) shows that same unique voice and style on songs Thomas describes as "the soundtrack to African American history."
"Church Songs," though not yet officially released, is already gaining momentum and being talked about as an Earl Thomas masterwork. His new live show, described as "a high spirit, soul stirring, foot stomping, get up and dance in the aisle tent revival," presents The Gospel Ambassadors, a tight 5pc unit of guitar, bass, drums, piano, and congas, and features Sister Leola, a dynamic vocal trio, whose soprano, mezzo soprano, and contralto surround Earl Thomas' powerful delivery with equal scope and scale. Fans are already picking their favorites songs. At a recent performance, opening the San Diego Music Awards, Union Tribune music critic George Varga said,  "Earl Thomas & The Gospel Ambassadors got the show off to a memorably rousing start that suggested their upcoming album should be a soul-stirring outing." 
"We're doing songs from the African American Gospel Songbook," says Thomas. "They used to call it 'jubilee singing' because it created such good feelings." Opening with a re-arrangement of the Dorothy Love Coates hit No Hiding Place Down Here "Church Songs" delivers 11 other classics including The Davis Sisters Old Landmark and Twelve Gates To The City, a brilliant reading of the traditional Swing Low Sweet Chariot, I'm Pressing On b/w Amazing Grace and the closing track, Lord Have Mercy, a skillfully crafted and delivered contemporary piece written by Earl Thomas and produced by MOLIGAN, the French production team of Thomas Molinas and Dimitri Ganevet for their 2021 Global Ancestral Sounds Music Project. 
After an accidental entry into the music industry, Earl Thomas was first recognized as a songwriter, reaching the mainstream with I Sing The Blues, a hit for Etta James, on her 1994 Grammy® Award winning Island Records release "The Right Time." Solomon Burke soon followed with What I've Got To Do, Baby Please Don't Cry, and Whatever It Takes To Get You, for his "Homeland" album. Then, on his "Black Music For White People," Screamin Jay Hawkins recorded I Am The Cool. Sir Tom Jones covered Git Me Some and the list goes on. His songs have been featured on top television shows like ER and Grace & Frankie, in blockbuster movies In The Mix (starring Usher) and Rip Torn's 40 Shades Of Blue.
His stunning performance at Switzerland's Montreux Jazz Festival in 1992, introduced Earl Thomas (who would become known as The Blues Ambassador) to an international audience, and was a preview of an impressive 25 year music career. And with the rare distinction of being recognized around the world as both living legend and modern-day innovator, Earl Thomas can now take  his place among the giants of African American gospel. The Times said that he "has come to epitomize what is known as jubilee singing, a livelier breed of gospel music," adding that "he made "antique" gospel zestier still by adding jazz and blues idioms, creating a sound…like the rock 'n' roll that grew out of it." The New Yorker simply called him "amazing," saying, "Earl Thomas is not just a singer borrowing from old traditions, he is defining those traditions and creating a new gospel sound in the 21st century." A fitting capstone to an impressive career, Earl Thomas is now The Gospel Ambassador.
Press photos